Welcome to Zenn Design, the home of handcrafted luxury. Where interior design meets custom furniture and window furnishings – Australian made in Melbourne, Victoria. Through quality craftsmanship and innovation, we create spaces you love to live in. Our experienced team of design consultants and professional upholsterers work with clients, luxury home builders and designers to handcraft the finest furniture for your home, residential and commercial projects. When it comes to Australian made furniture brands, Zenn Design has fast become an industry leader through innovative design, quality materials and incredible service. Customise your Made To Order purchase with our online home furnishings store – today!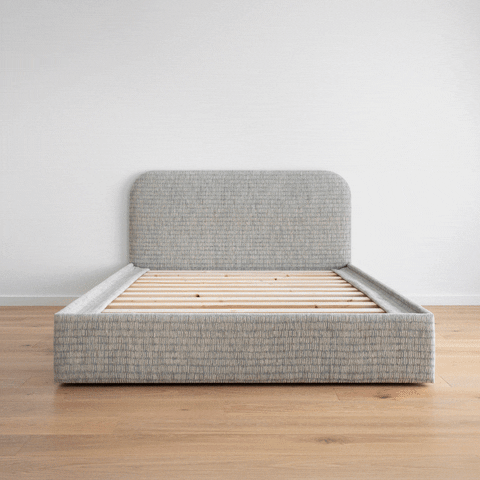 Customise Your Fully
Upholstered Bed
Choose between endless options of luxurious fabrics to customise your fully upholstered bed and select between either a floating bed base, recess leg finish or frame to floor bed base option. Each piece carries skilled Australian craftsmanship, crafted to order in our Melbourne workshop, with care and precision, by hand. Made strong and made to last from the highest quality materials to ensure years of enjoyment. Every bed comes with a 5-year structural warranty, made to order with prioritised lead times.
Custom Upholstery + reupholstery service
At Zenn Design we specialise in all things fabric. You dream it, we make it! Our Team work together with, clients, architects, builders and designers to create unique custom spaces. At every stage, we listen to the needs of our customers, and tailor our services to perfectly fit their unique requirements.
Discover more
AUSTRALIAN DESIGNED & MANUFACTURED
Each piece offers skilled Australian craftsmanship, made to order in our Melbourne workshop with care and precision, by hand. Made Strong – Made to last!
Discover our range
Each piece is 100% Custom built & Made to Order
At Zenn Design we handcraft your furniture in your choice of size, fabric and colour, all from the highest quality materials to ensure years of enjoyment.
Customise Your Home
Handcrafted in
2-4 weeks*
We offer a super quick lead time to get your custom furniture to you! Our fast 2-4 week delivery ensures there are no unnecessary waiting periods.
*Place Your Order Today
Featured Google Reviews
Zenn Design did a great job making and installing my Electric Blinds and Sheers in a very timely manner before Christmas. Also construction of fantastic beds, also purchased and delivered matching mattresses. Hannah, the person I dealt with definitely has the 3 a's - availability, affability, and ability to produce an excellent product

Peter S.
I approached Hannah with a tiny screenshot of a cross legged stool I had seen online and she helped me recreate them well beyond my expectations. Her advice, suggestions and patience are so appreciated and she is so responsive!! The matching cross legged stools are absolutely devine and I would highly recommend Hannah and the team. After selling our house earlier in the year, I can't wait to buy a new one so I can work with Hannah again!

Nicole L.
Had a positive experience collaborating with Zenn Upholstery and Design on a custom bedhead for a client. The consultant made the process smooth by bringing multiple samples of fabric to choose from. The product speaks for itself - in quality and design.

Miri W.
I ordered Zenn Design's Harper bedhead in a light grey. It's stunning and beautifully built. Hannah from Zenn Design was lovely, responsive and provided excellent design advice! Highly recommend!

Alicia K.
Thank you Zenn Design for our beautiful bedhead – the final piece for our master bedroom.

Hannah was such a pleasure to deal with and made the whole process incredibly easy.

Alex P.
...From the start I have been given the best service, offered an excellent choice of fabrics and materials that progressed into very high quality Australian made furniture. The furniture was designed in house also, I became involved with size and construction, also viewed sketches to resemble the finished goods. Delivery was only weeks from a signed contract, unlike 3 to 4 months from China suppliers. Now relaxing with my good choice to use Zenn.

David B.
I absolutely love my sheer curtains that Zenn Design made and installed. They have completely transformed my living room and bedroom and made the space feel more luxurious. The friendly staff were amazing to deal with, they were both professional and extremely knowledgeable offering helpful advice when needed. I would definitely recommend this business to my friends and family.

Cath O.
Hannah and the team at Zenn Design were extremely professional and make absolutely outstanding pieces. We have been thrilled with the way the team has handled our client based relationship and we will continue to uphold this friendship. Many more orders will be coming their way.

Jordan M.
Hannah and the team at Zenn Upholstery & Design have been a pleasure to work with. They are easy to communicate with and the quality of their workmanship is excellent. We look forward to future opportunities for collaboration.

Emmeline B.